UPDATE - LUX HOOPS 2023/2024 PRE SEASON BASKETBALL CAMP 13th & 14th September 2023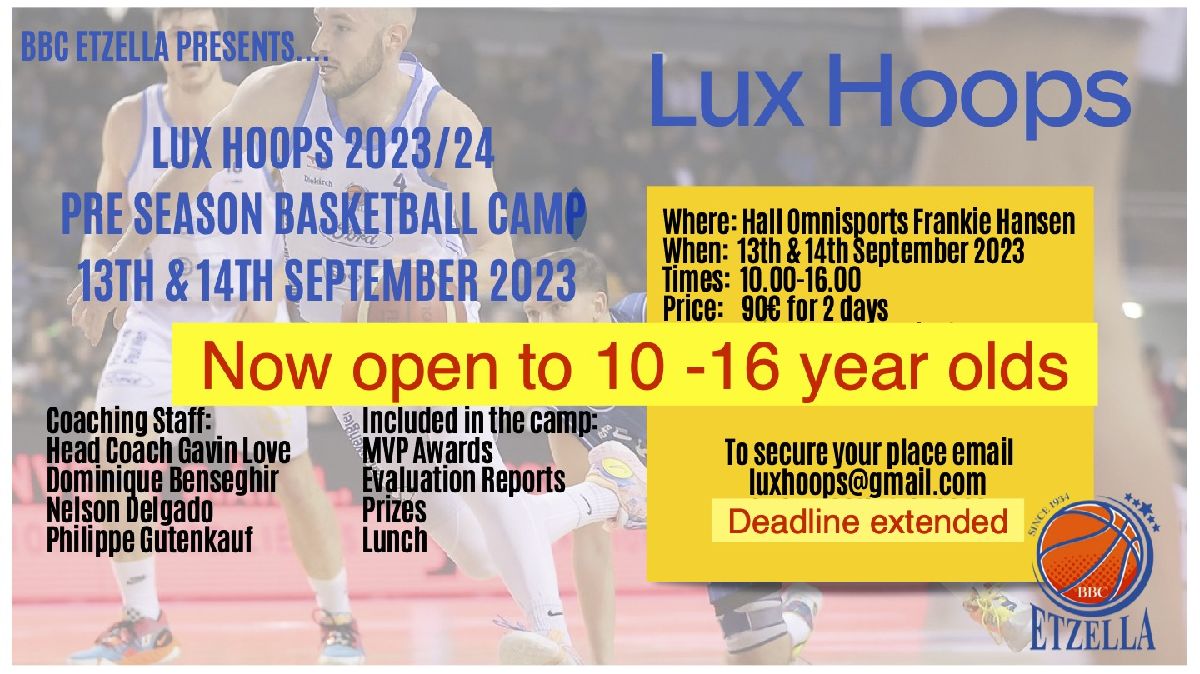 UPDATE: 

Due to popular request, the camp is now open for 10-16 year olds. Register now!
Suite à une forte demande, le camp est désormais ouvert aux jeunes de 10 à 16 ans. Inscrivez-vous dès maintenant !
Den BBC Etzella organiséiert enner der Leedung vun hierem Seniors-Head Coach, dem Gavin Love, een Preseason Basketcamp fir Jugendlëcher zwëschen 12 an 16. Dat ganzt fënnt den 13 an 14 September 2023 an der Hal Frankie Hansen zu Ettelbréck statt.
All d'Infoen fannt dir am Flyer!
Umëllungen sinn bis den 30 Juli 2023 mat enger Mail ob luxhoops@gmail.com méiglech.
French:
Le BBC Etzella, sous la direction de son headcoach Gavin Love, organise son premier camp de basket de pré-saison pour les jeunes de 12 à 16 ans. Le tout aura lieu les 13 et 14 septembre 2023 dans le gymnase Frankie Hansen.
Vous trouverez toutes les informations dans le flyer !
Les inscriptions sont ouvertes jusqu'au 30 juillet 2023 via l'adresse luxhoops@gmail.com.
English:
BBC Etzella, under the guidance of their Head Coach Gavin Love, are organising their first Preseason Basketball Camp for youngsters aged 12-16. The Camp is going to be held on 13 and 14 September 2023 at the Frankie Hansen Sports Hall.
You can find all the info in the flyer!
Registrations are open until 30 July 2023 via luxhoops@gmail.com.
lux-hoops-camp-final-version.pdf